Buro Herwig has been conducting specialised internal quality and safety audit training courses for aviation and aircraft companies for more than 10 years. In accordance with regulations, audits should be held to compare 'the way in which an operation is being conducted to the way in which the published operational procedures say it should be conducted'.
Differences between audits and inspections
The difference between an audit and an inspection is not always clear to everyone. Quite often, a so-called audit turns out to be an inspection. This is a shame because we believe a properly conducted audit can provide added value. The primary purpose of a quality inspection is to observe a particular event in order to verify whether established procedures and requirements are being followed. The focus here is on details. The purpose of an audit, however, is not only to check whether operational processes are being carried out in accordance with standards but also to judge the effectiveness of these procedures in reaching the stated goals. In fact, the very act of judging procedures gives an organisation the opportunity to improve.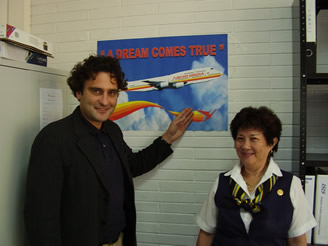 Customer Intake at SLM Surinam Airways
An example of an audit training course programme
Day 1
Basic principles of quality management
Relevant regulations
Audit skills, the audit process, role and qualifications of the auditor
Course participants prepare, conduct, report on and present audits
Day 2
Summary of day 1
Video on audit skills and the audit process
Course participants prepare, conduct, report on and present audits
Evaluation of the training course.
Training method

A training course is tailored as much as possible to the course participants, so a customer intake is essential. In addition, a specific inventory of the demands of the participants is made at the start of each training course. To ensure the course achieves the ambitious learning goals, we provide two experienced trainers and we limit the number of participants to eight. The course is lively, interactive and because auditing is a skill, there will be plenty of opportunity to practise.

These courses are conducted in both English and Dutch.

Clients

KLM KLM Flight Safety & Quality Assurance

KLM Cityhopper

KLM Cargo

KLM Flight Operations

KLM Ground Services

KLM Flight Academy

Heli Holland

Air Exel

SLM Surinam Airways

Martinair

Transavia